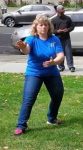 We are happy to announce that a Taichi/Qigong class is being added back into the current curriculum! This class will meet on Fridays from 5pm – 6pm. We will start with a traditional Qigong warm-up; then we will explore breathing, foot, hand and body postures; incorporate easy-to-learn qigong drills using Taichi movements; put the movements together in both the Simplified 24 Yang Taolu and the Yang 108 (Long Form); and conclude with a self-clense qigong. Since this is an on-going class, participants are encouraged to start at any time that is convenient for them. This class will be upstairs at Ground Zero Gymnastics in the Yellow Studio.
On Thursdays we still offer Adult Chinese Martial Arts (a/k/a Wushu-Kung Fu) at 6:40 – 7:40pm where Chang Quan and Nan Quan empty fist forms are taught in addition to weapons (Staff, Nunchucks and in the near future, Broadsword).
Earlier there is a 45 minute class, Taichi Fan, where movements taken from Taichi (Yang & Chen) are incorporated into the "Scholars Weapon," the Taichi Fan. This class is from 5:45 – 6:30pm.
Other important notes: Your first class, like all classes at PNMAA, are free for new students. Classes, class sizes and times are limited due to COVID-19 precautions. Please contact Jeannette for availability. Masks are required (no mesh masks, please) and must cover your mouth and nose. Your class punch card consists of 4 classes to be used in 60 days from the time of purchase which allows you to take care of yourself if you're not feeling well or if you have another event that you need to attend. PNMAA strives for flexibility in today's world!